Corporate Information
Message from the President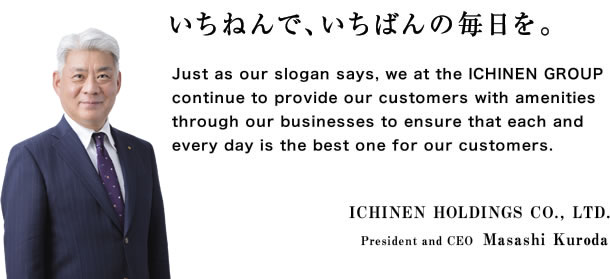 The pure holding company of ICHINEN GROUP is ICHINEN HOLDINGS CO., LTD. We at ICHINEN GROUP work to manage the group as a whole while each of the affiliated companies manages itself independently.
We have developed our automotive leasing business, chemical, parking, machine tool sales, and synthetic resin businesses and as of 2016, we have also started an agriculture business.
Moving forward, we will endeavor to strengthen the business foundation of the group aimed at the next generation while continuing to strengthen our existing businesses. Furthermore, we will provide our customers with a wide range of amenities that are not bounded by our business areas and we will aim to expand our businesses so as to better contribute to society throughout the world.
Management Principle
The basic management principle of our company is to reward our shareholders and employees and to be of service to society by fully satisfying a great number of customers with our excellent quality and services and by securing a reasonable profit.
Company Overview
Corporate name

Established

Headquarters

Board of Directors

Stock exchange listing

First Section of the Tokyo Stock Exchange

Stock code

Capital stock

Net sales

Account closing month
ICHINEN GROUP History
We have expanded the scale of our company to match the changing times.